Morris Drug Store


Company Names, addresses, dates: 1
&nbsp Morris Drug Store, Davis Street, Culpeper VA (1922-19??)

Notes:
The Morris brothers, Fred L. Morris and William G. Morris Jr. started the Morris drug store in December 1922 in the Morris Building on Davis Street1.
(more information will be added when I get around to researching this druggist)

Bottles: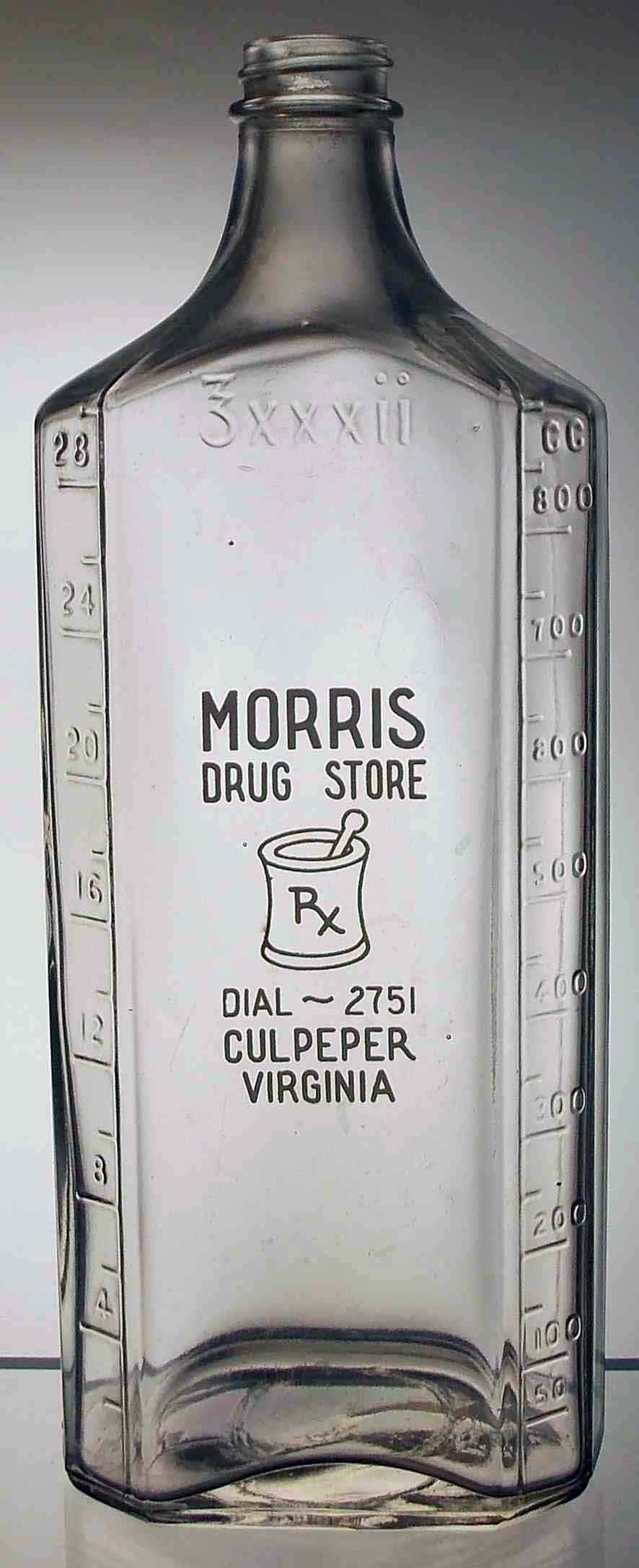 This is my largest Drug store bottle - it's 10.6" tall, and held 32 ounces. It's clear, machine-made, embossed with the size (3xxxii) and gradation marks for ounces & CCs, and it has a white applied colored label (ACL) that says:
white ACL: MORRIS / DRUG STORE / (mortar & pestle with 'Rx') / DIAL ~ 2751 / CULPEPER / VA.

Other Items: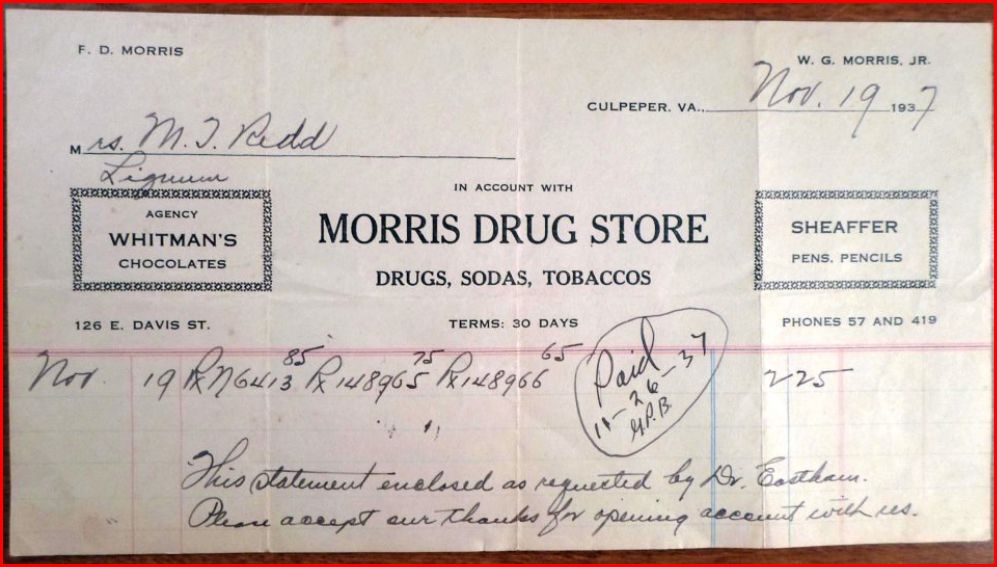 This is a receipt from 1937. It says:
Header: F.D.MORRIS &nbsp &nbsp &nbsp &nbsp &nbsp &nbsp W.G.MORRIS, JR. / CULPEPER, VA. NOV. 19 1937 / Mrs. M.J.Redd / AGENCY / WHITMAN'S / CHOCOLATES / IN ACCOUNT WITH / MORRIS DRUG STORE / DRUGS, SODAS, TOBACCOs / SHAEFFER / PENS, PENCILS / 126 E. DAVIS ST. TERMS 30 DAYS PHONES 57 and 419
handwritten: RxN6413 Rx148965 Rx148966 / PAID 11-26-37 / This statement enclosed as requested by Dr. Eastham / Please accept our thanks for opening account with us.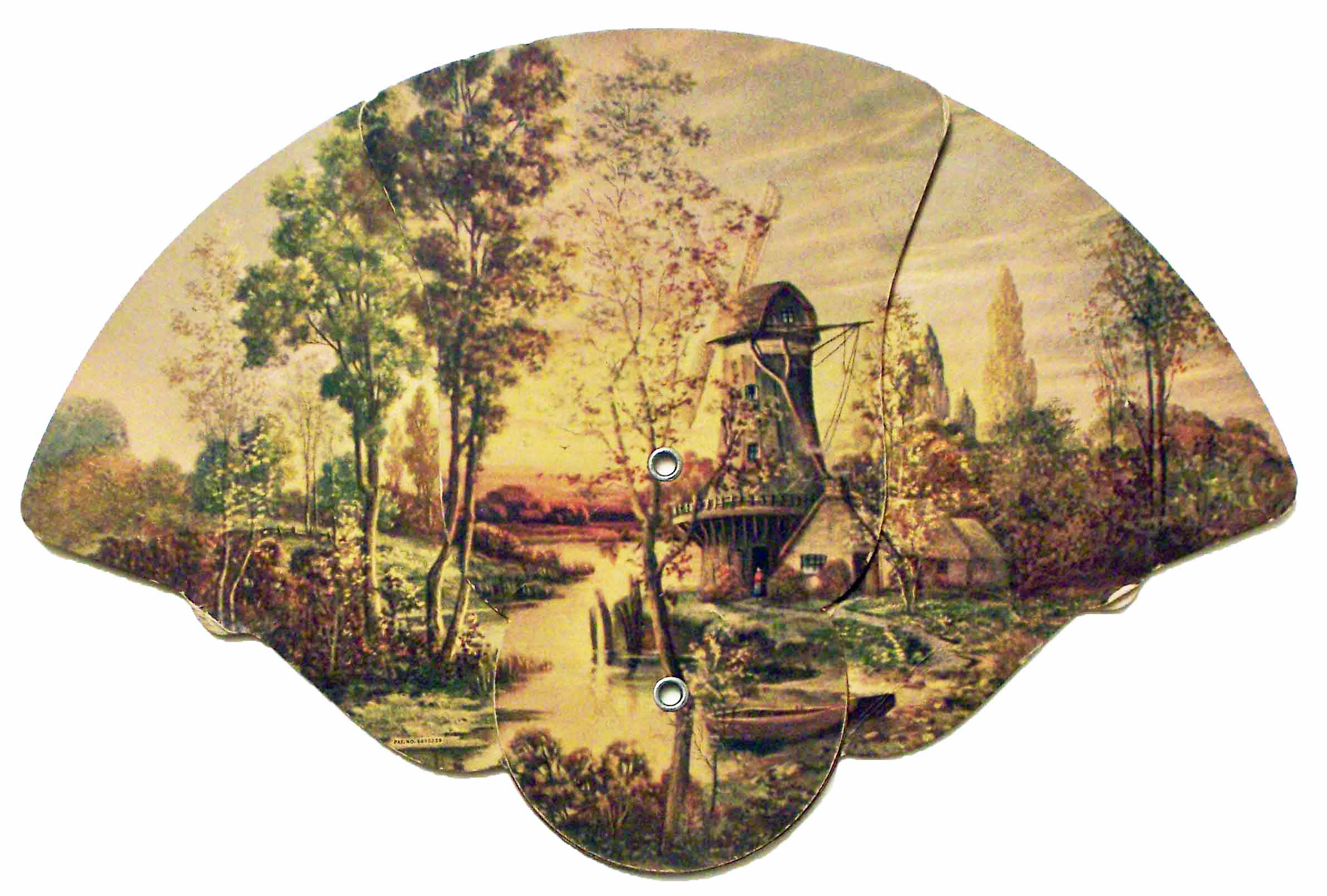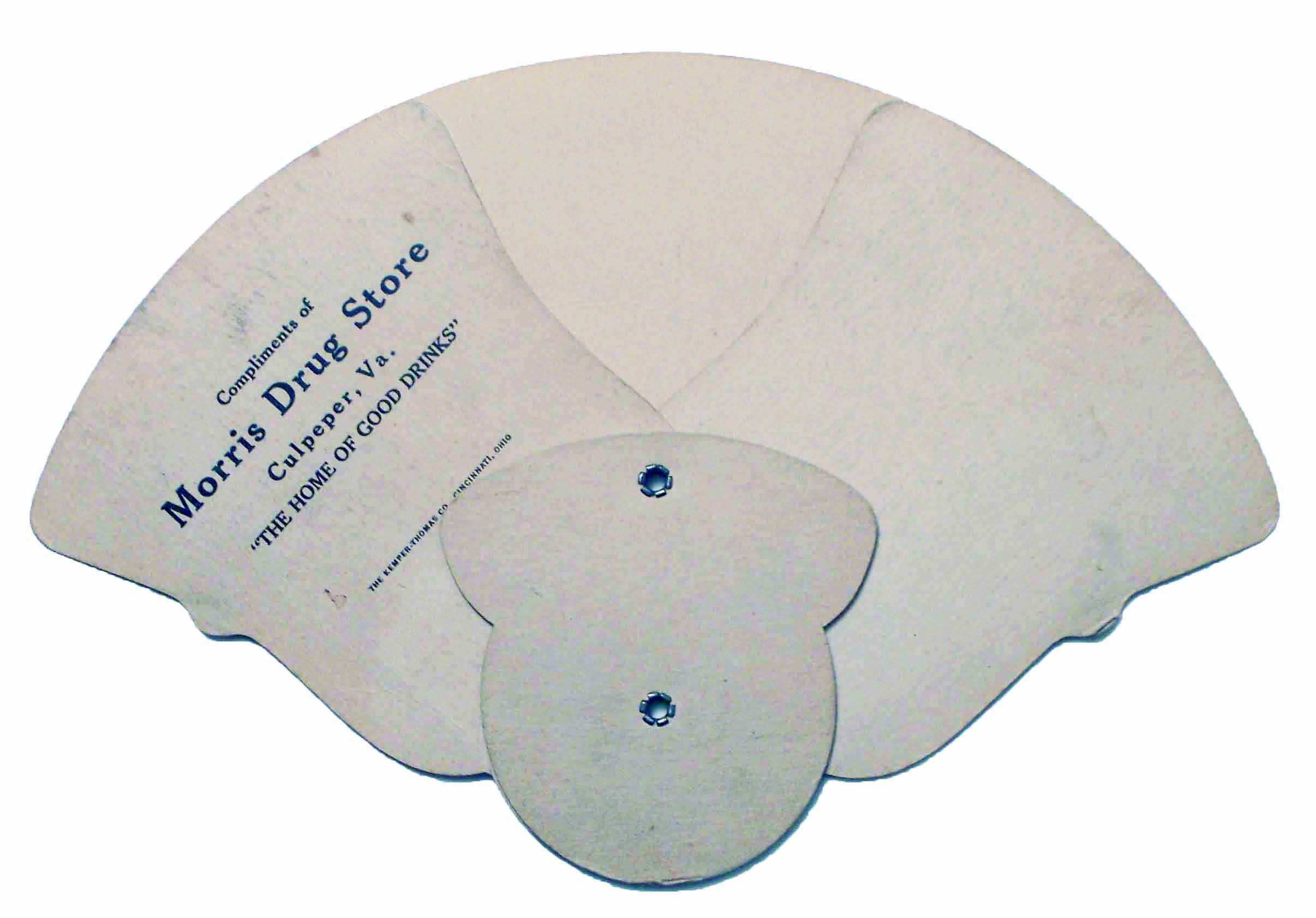 This is a cardboard fan with a picture of a windmill on the front. On the back, it says:
Black letters: Compliments of / Morris Drug Store / Culpeper, Va. / "THE HOME OF GOOD DRINKS"
In small print: THE KEMPER-THOMAS CO. CINCINNATI, OHIO




1 Richmond Times Dispatch, December 17, 1922, page 28




Back to my drugtstore bottle home page.
---
This page last updated on January 1, 2018.