Ricketts Drug Store


Company Names, addresses, dates:
&nbsp Ricketts Drug Store , Orange VA

Notes:
(more information will be added when I get around to researching this druggist)

Bottles: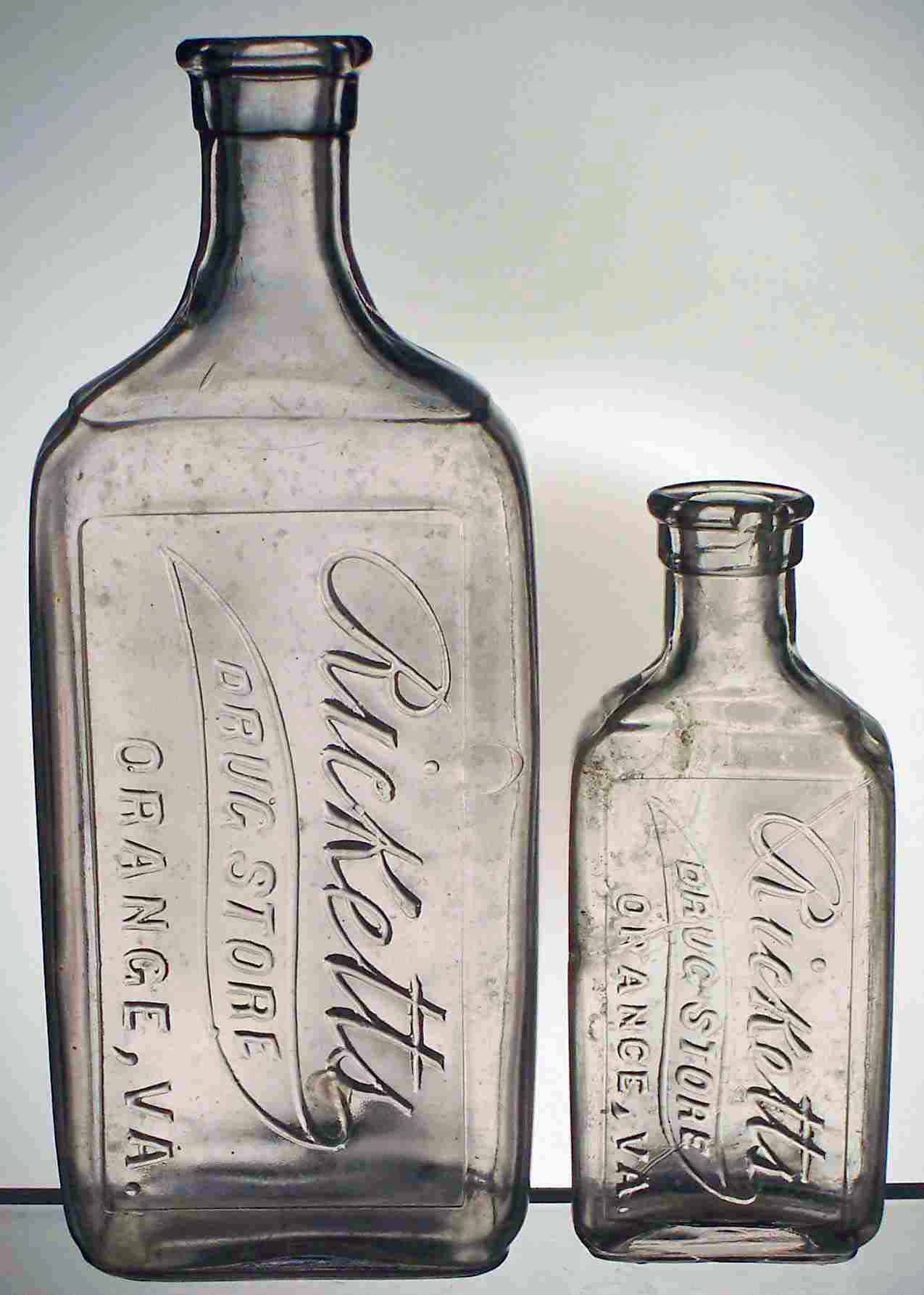 These are clear bottles that are embossed the same except for the number of ounces on the back. Left one is 6.7" (8 oz) and the right one is 4.3" (2 oz). They are embossed:
vertical: Ricketts / DRUG STORE / ORANGE, VA
backside: 2 (or 8) OZ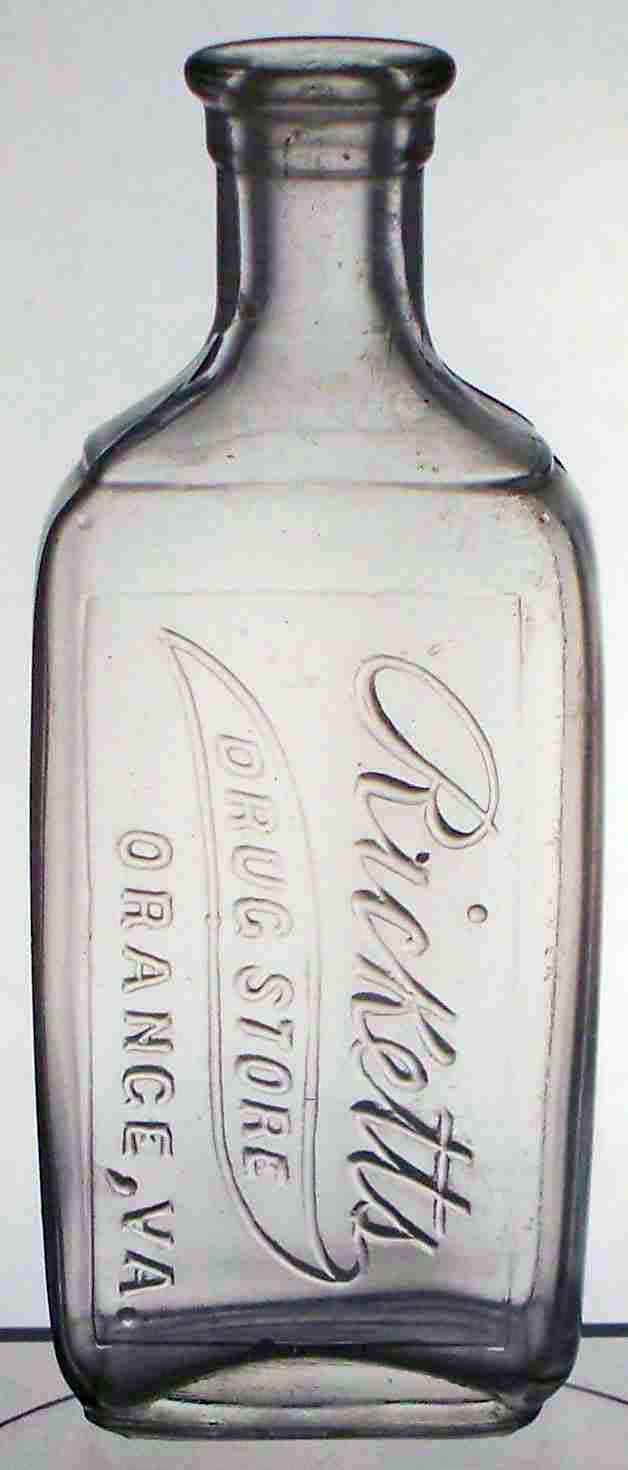 This is the same as the ones above, except it's a different size and it has nothing embossed on the back. It is 5" tall (3 oz), clear, and embossed:
vertical: Ricketts / DRUG STORE / ORANGE, VA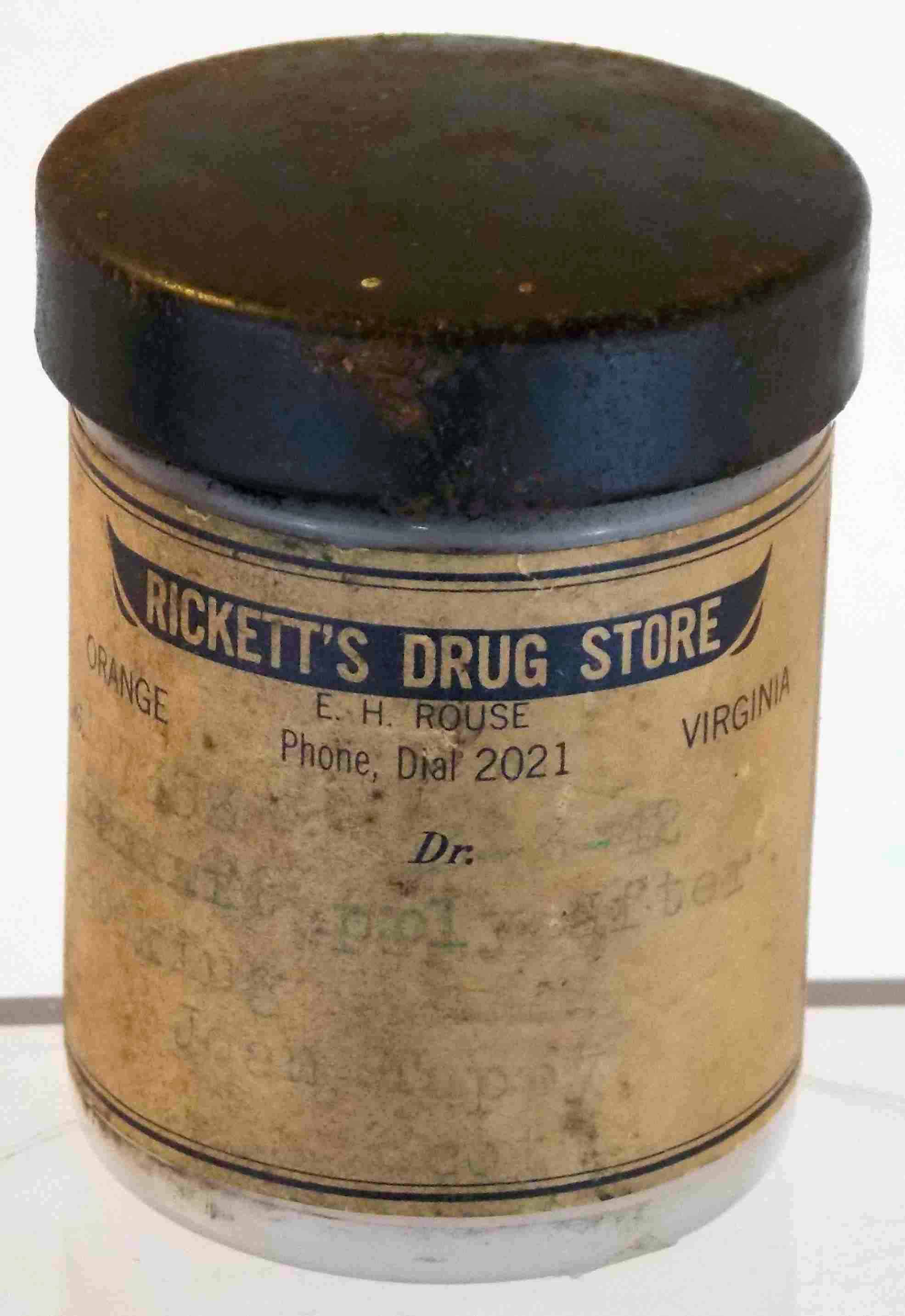 This is a 2.25" milk-glass bottle with a screw-on plastic lid, which holds a white cream inside. It has a label that has a 1942 date on it:
label: RICKETTS DRUG STORE / E.H. ROUSE / ORANGE Phone Dial 2021 VIRGINIA / No. 107343 ??-3-42 / apply after soaking / Joan Tappy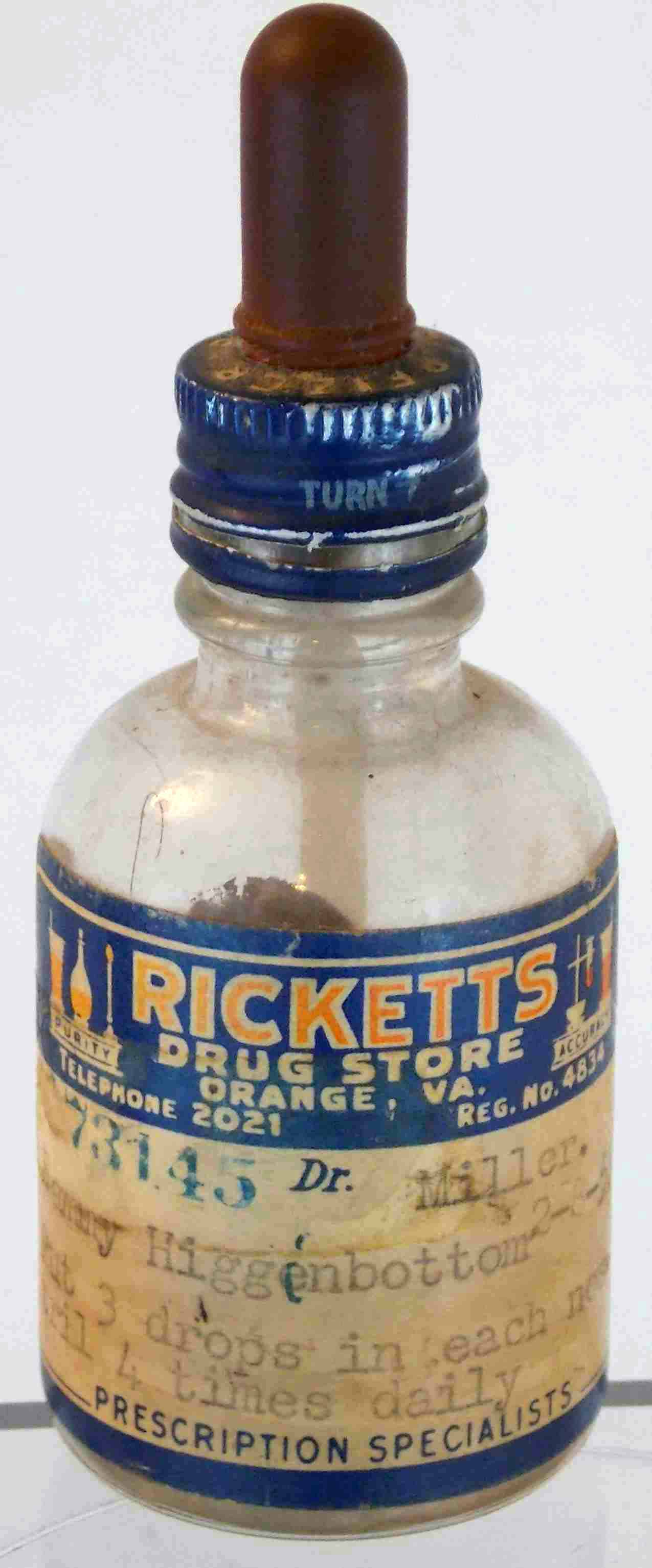 This is a 2.75" clear machine-made bottle with a metal screw-cap that has an eye-dropper built into it. It has a label with a 1955 date on it:
label: RICKETTS / DRUG STORE / ORANGE VIRGINIA / PURITY ACCURACY / TELEPHONE 2021 REG. NO. 4834 / No ?73145 Dr. Miller / Sammy Higgenbottom 2-8-55 / Put 3 drops in each nos- / tril 4 times daily / PRESCRIPTION SPECIALISTS

Other stuff: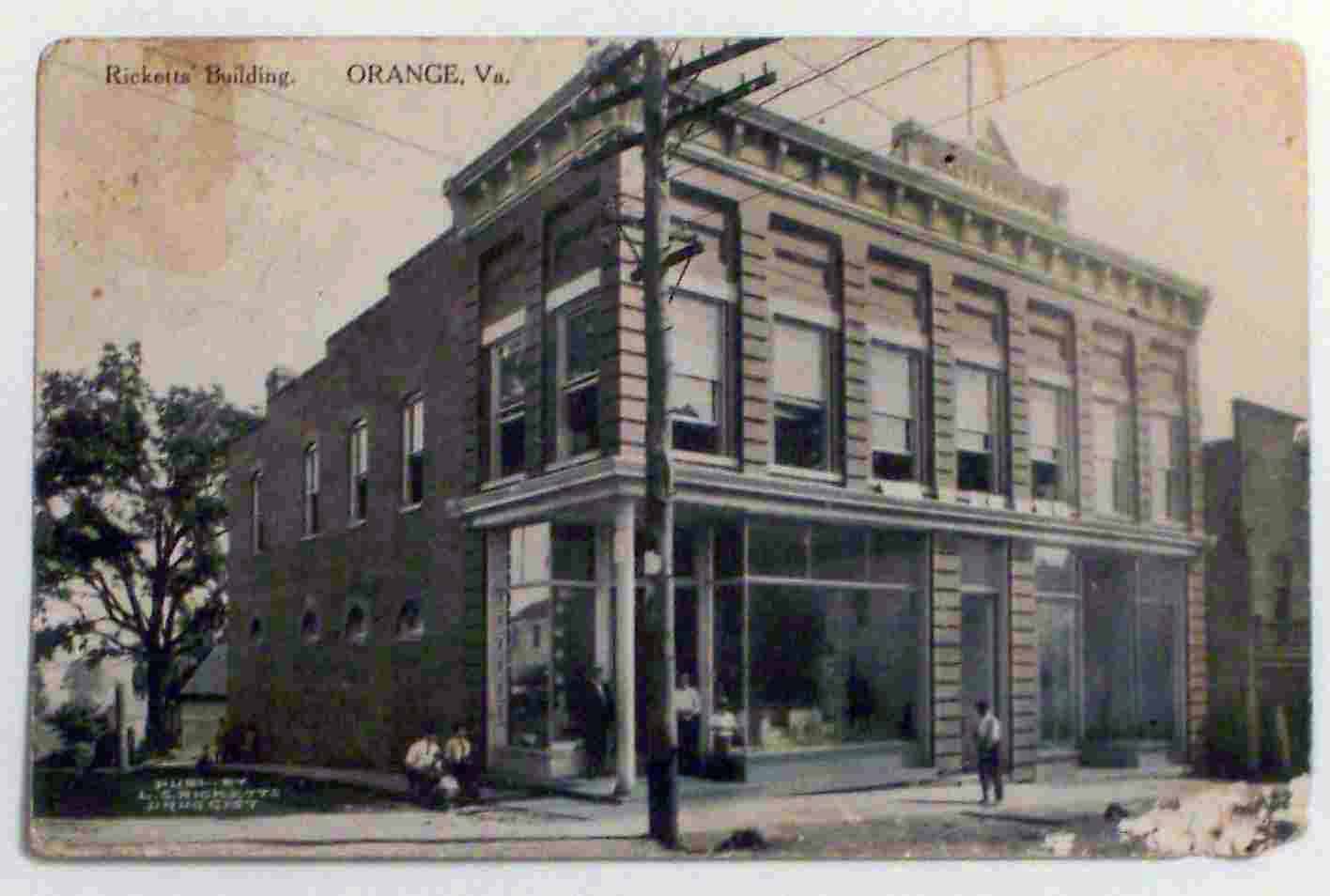 This is a post card that says:
top left: Ricketts' Building. ORANGE, Va.
bottom left: PUBL. BY / L.S.RICKETTS / DRUGGIST
I assume this is the building that housed Rickett's drug store.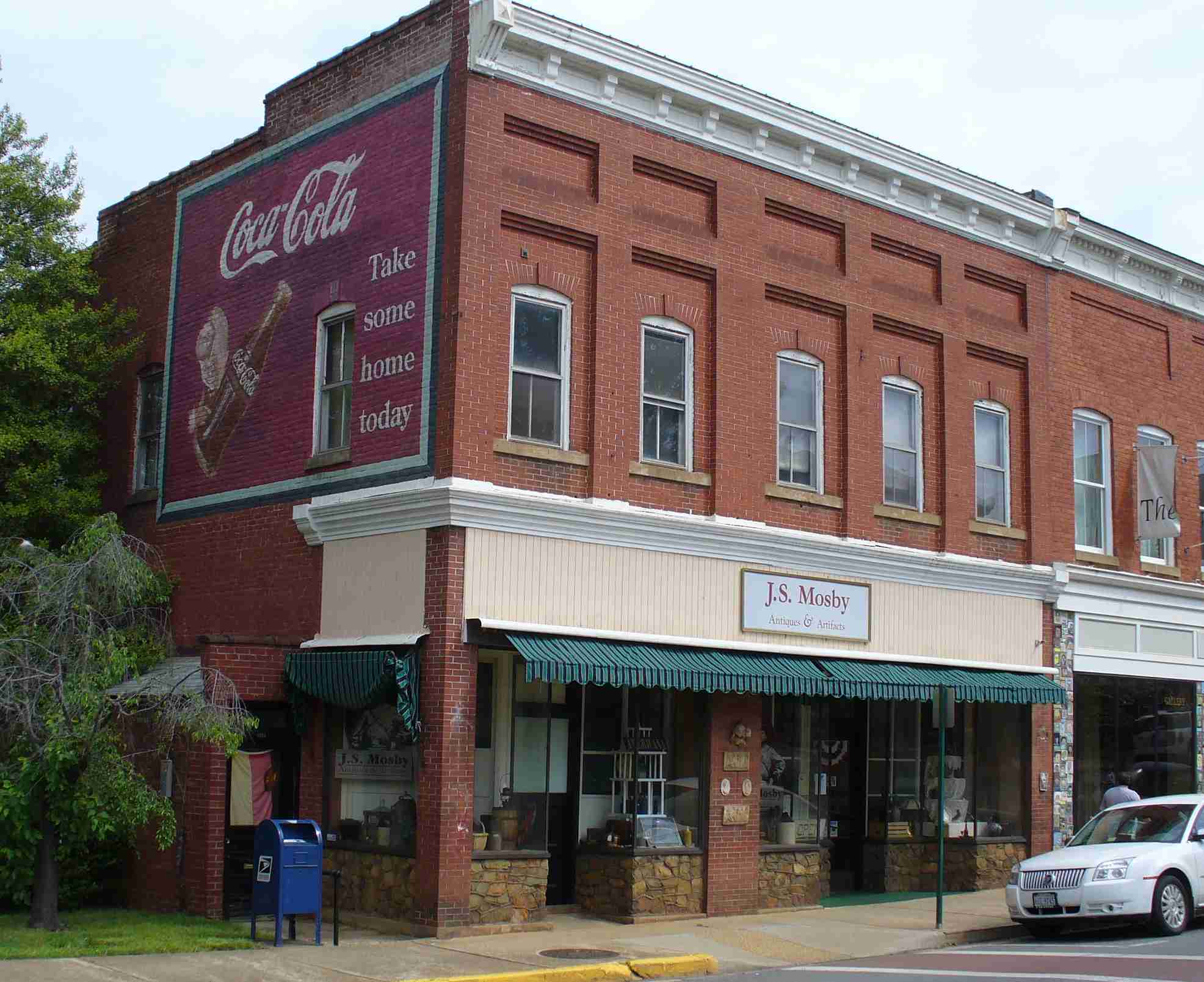 This is a photo (taken 2-May-2009) of what I beleive to be the same building in the postcard above. A conversation with the current owner of the antique store it houses confirmed that the building used to be a drug store.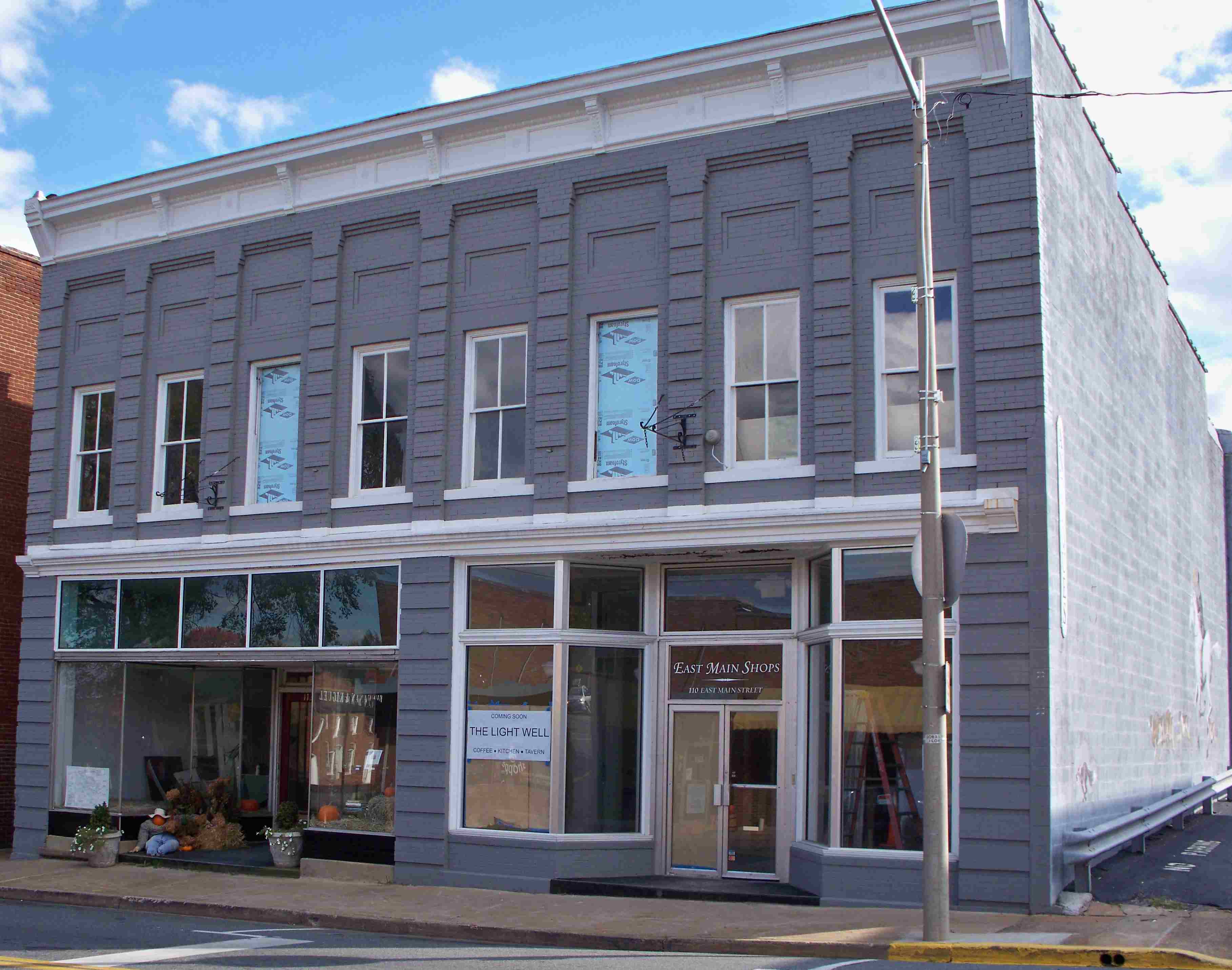 On the other hand...
This is a photo (taken Nov 2010) of 112 E Main Street. According to the walking tour of downtown Orange1, this building was once Ricketts Drug store, and the building that is depicted above was once the Grymes Drug store. I suspect that the building depicted above must have housed both drug stores but at different times.




1 Brochure: "A Walking Tour of the Downtown Orange Commercial Historic District", published by the Orange Downtown Alliance






Back to my drugtstore bottle home page.
---
This page last updated on June 19, 2016.