Garland's Drug Store


Company Names, addresses, dates:
&nbsp Garland's Drug Store, 1327 Grandin Road, Roanoke VA
&nbsp Clore & Garland, Opp. Street Car Office, Roanoke VA

Notes:
The following information was provided by the former owner of this drug store, Robert A. Garland1:
There were a total of 10 "Garland's Drug Stores" - the one on Grandin Road was store number 6. Garland's Drug Store #6 was purchased by Walter B. Garland in the 1940s. In 1949, Robert A. Garland took over the store from his father. In 1953 he re-opened the store in a larger building across the street. It was a very large drug store - so large that it once filled 1192 prescriptions & made 667 deliveries all in a single day during a 1968 flu epidemic. The store was sold in 1969 and was subsequently owned by various drugstore chains before closing down completely in 2012.

Here is an old photo of Garland's Drug store on Grandin Road from the Roanoke Public Library.

Garland Bottles: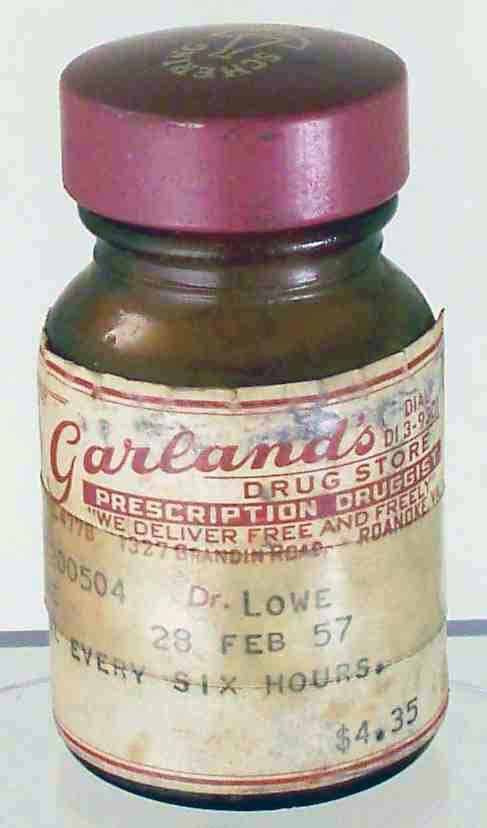 Amber 3.5" screw-topbottle with a label:
label: Garland's / DRUG STORE / PRESCRIPTION DRUGGIST / "WE DELIVER FREE AND FREELY" / REG. NO. 4778 1327 GRANDIN ROAD, ROANOKE, VA.
label (typed): Dr. LOWE / RICE 28 FEB 57 / ONE EVERY SIX HOURS / $4.35

Clore & Garland Bottles:


Clear 6.5" bottle with a label:
label: LILAC AFTER SHAVE LOTION ... Manufactured by CLORE & GARLAND DRUGGISTS "Where Quality Counts" Opp. Street Car Office, Roanoke Va.

Other Items: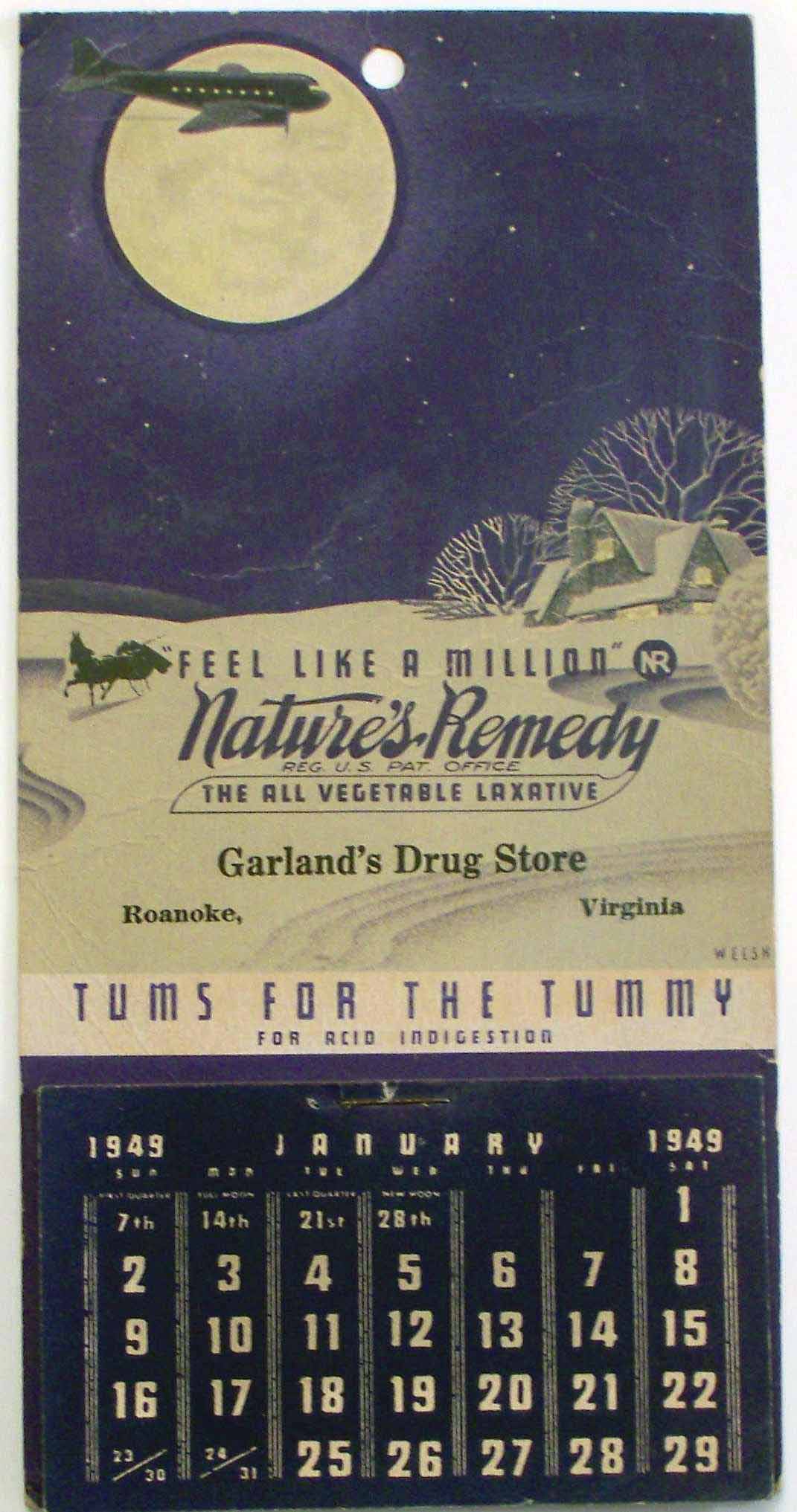 This is a 3.5" x 6.75" calendar from 1949 advertising Natures Remedy laxative, Tums, and Garland's Drug Store. It's marked:
(picture of plane flying in front of the moon) / "FEEL LIKE A MILLION" NR / Nature's Remedy / REG. U.S. PAT. OFFICE / THE ALL VEGETABLE LAXATIVE / Garland's Drug Store / Roanoke, Virginia / TUMS FOR THE TUMMY / FOR ACID INDIGESTION
There are more advertisements for Tums & Natures Remedy on the back of the calendar.



1 Information from a 2014 Christmas letter that Robert A. Garland sent to his family, which was shared with me.





Back to my drugtstore bottle home page.
---
This page last updated on January 11, 2015.