Lin Irwin


Company Names, addresses, dates:
&nbsp Dr J.S. Irwin, Woodstock VA, (c.1851)1
&nbsp F.B. Irwin, Woodstock VA, (c.1890)2
&nbsp Lin Irwin, Woodstock VA, (????-1906)3

Notes:
Linden R. Irwin was born Dec 19, 1864 in Woodstock VA4. He was the son of Dr. Joseph S. Irwin, who had a drugstore in Woodstock c.18511. The 1880 US Census lists 2 of Lindens older brothers (Joseph & Franklin) as Druggists.
The 1890-91 "Virginia Merchant Directory" listed an "F.B. Irwin" as a druggist in Woodstock - I suspect this was Irwin's brother Franklin R. Irwin (the B was likely a misprint & should have been an R).
I don't know when Lin took over the drugstore - the 1888 patent date on the base of the bottle below indicates it was probably made within 8 years of that date (1888-1896), so Irwin probably took over the drugstore business sometime in the 1890s. In April of 1906, Irwin sold his drugstore to Walton & Smoot.3
Irwin moved to Richmond VA, and was the manager of Scott's Pharmacy when he passed away on July 5, 19224


Bottles: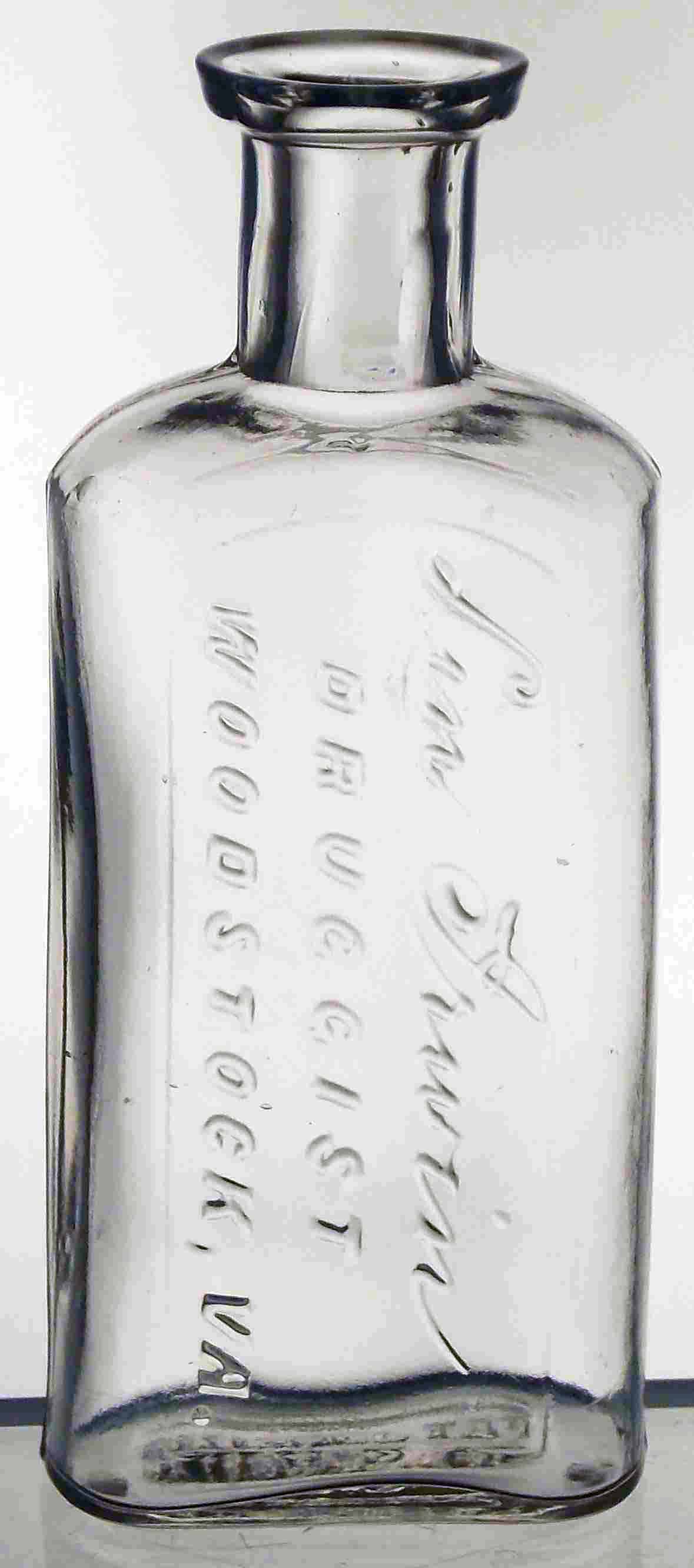 This is a 4.3" clear bottle embossed:
vertical in slugplate: Lin Irwin / DRUGGIST / WOODSTOCK, VA.
base: PAT JUN 17 88 / S.B.




1 The Virginia Merchant Directory 1851
2 The Virginia Merchant Directory 1890-1891
3 Richmond Times Dispatch Newspaper, April 29, 1906, page 10.
4 VA death certificate 15496 for Lin R. Irwin, July 6, 1922
2 Richmond Times Dispatch Newspaper, July 9, 1922, page 10.






Back to my drugtstore bottle home page.
---
This page last updated on May 14, 2017.