George Kernwein


Company Names, addresses, dates1:
&nbsp Ernst Loeffler, NY ave btw 1st & 2nd West (1862-1864)
&nbsp Hugle, Abner & Beyer, NY near 1st (1865-1866))
&nbsp Charles G. Mueden, N btw 1st & 2nd West (1867)
&nbsp George Kerwein, 124 N NW (1877-1886)
&nbsp Kernwein & Son, 124 N NW (1885-1887)
&nbsp Mourice G. Kernwein, 124 N NW (1888)
&nbsp Moritz G. Kernwein, 124 N NW (1889-1900)
&nbsp Anton Danhakl, 124 N NW (1904-1910)

Notes:
The address of Kernwein's brewery in the DC city directories bounces around between "124 N Street NW" and "115 NY Ave NW". These addresses are two different sides of the same city block, which is depicted below in a snippet from an 1883-84 map called "Birds-eye view of Washington City" published by A. Sachse & Co, Baltimore MD.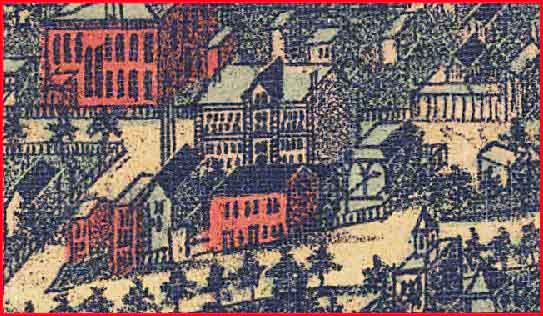 I'm guessing the big building on the north side (N Street) was the brewery, and maybe the smaller buildings on the slanted south side (NY Avenue) were either part of the brewery, or maybe a saloon or beer garden. The actual addresses of Kernwein's brewery as they appear in the city directories are:
&nbsp 124 N Street NW (1878-90, 1895-1900)
&nbsp 115 NY Avenue NW (1877, 1884, 1891-1894)
The book "American Breweries II" by Dale P. Van Wieren lists Kernwein's brewery at 124 N Street NW from 1874-19002. The 1874 address jibes with the markings on the bottle below that says "74".
George Kernwein was listed as a foreman at the brewery on NY Ave between 1st & 2nd West in the 1867 city directory. That address would be the same location as the "115 NY Ave" address, so it appears he worked at the brewery before he became the owner.
A civil war draft registration form from July 1863 in New Jersey lists George Kernwein as a 38 year old white brewer from Germany. George died somewhere near 1890, as that's the first year his wife Caroline was listed as a widower in the city directories. His brewery was left with his son Moritz.
Moritz G. Kernwein was born in November 1857 in NY3. There is a glass hutchinson bottle embossed with "M.G. KERNWEIN, 115 NY AVE, WASHINGTON DC"4.


Bottles: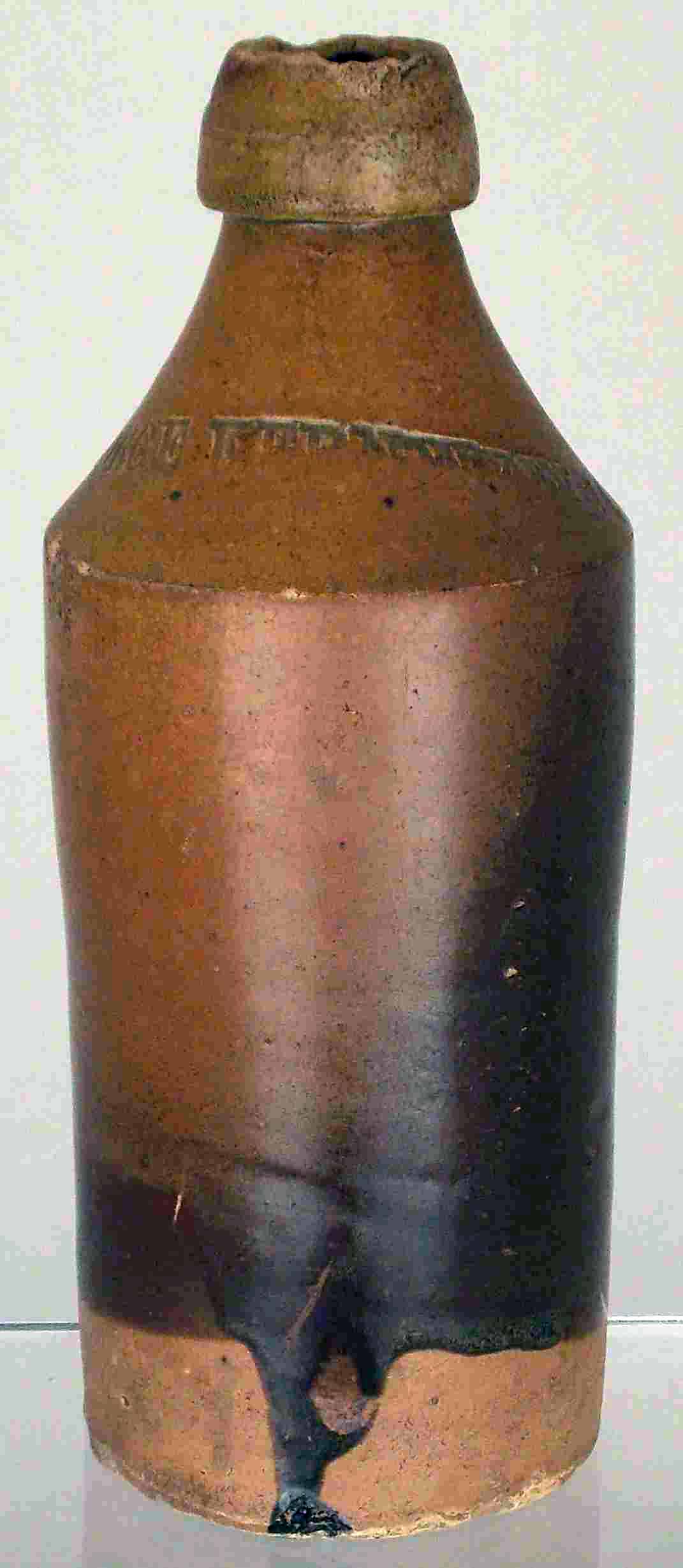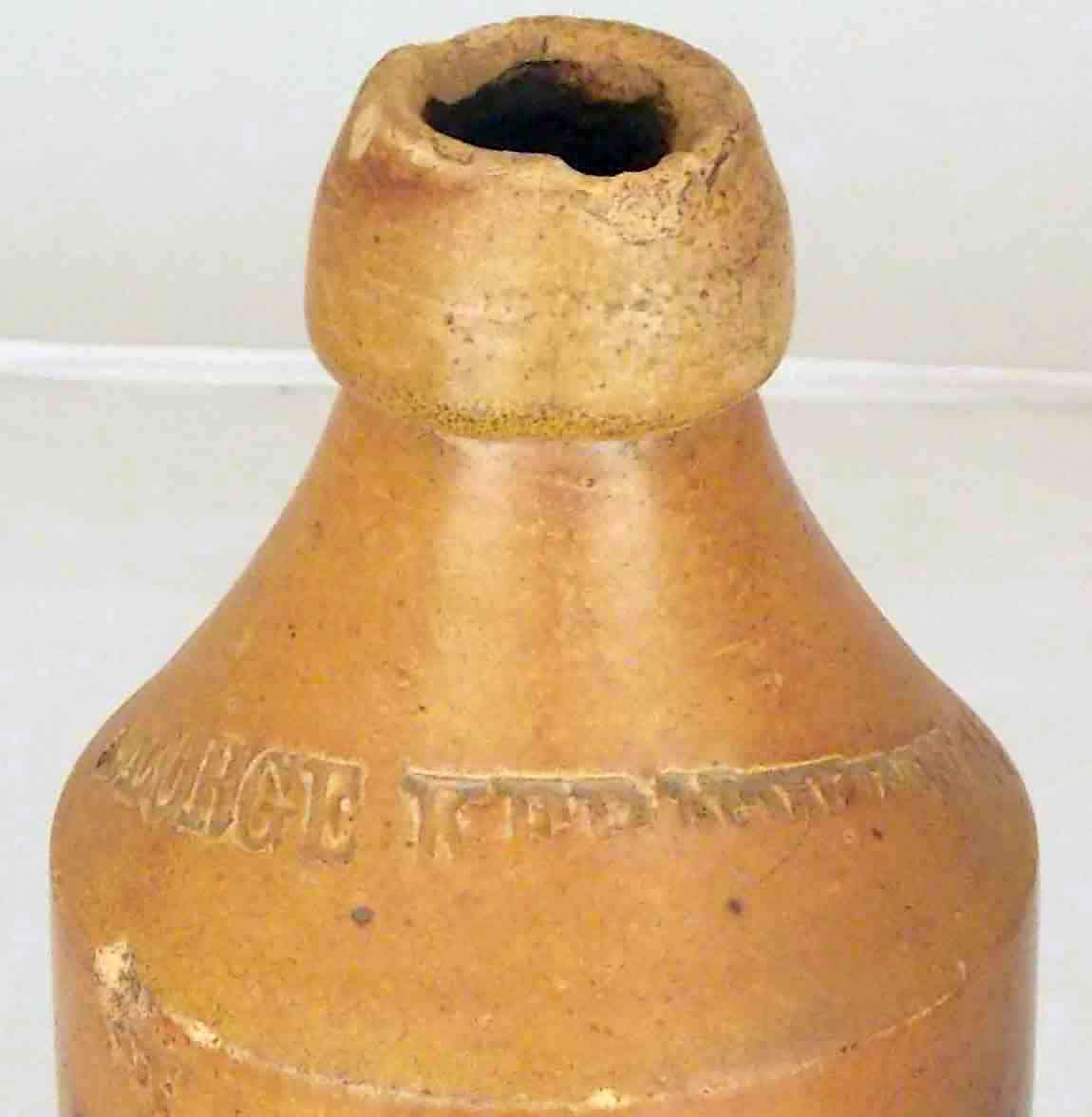 (closeup)
book # 61 (in the Stoneware section)
This is a 7.5" tall stoneware blob-top bottle with a name impressed in the shoulder:
imprinted on shoulder: GEORGE KERNWEIN 74




1 Boyd's Directory for the District of Columbia (various years)
2 "American Breweries II" by Dale P. Van Wieren
3 US Census for the year 1900
4 Book: Antique Bottles from the Washington, D.C. Area" by the Potomac Bottle Collectors, 2005





Back to my bottle home page.
---
This page last updated on June 21, 2014.