R.P. Cook


R.P. Cook - Names, addresses, dates:2
&nbsp &nbsp R.P. Cook, King Street, Alexandria VA (c.1855)


Notes:
R.P. Cook ran 2 different advertisements in the Alexandria Gazette in 1855. Both of these listed the proprietor as "G.A. Cook, Agent for R.P. Cook". G.A. Cook had been partnered with J.M. Roseberry until 1855.
&nbsp &nbsp The first advertisement ran from January 25 to March 1, 1855. It said that on or after February 1st the subscriber intended to commence bottling Philadelphia Porter, Ale and Cider. It also said he intended to manufacture all kinds of mineral waters such as Sarsaparilla, Lemon & Ginger1.
&nbsp &nbsp The second advertisement ran from April 16, to May 16, 1855. It said that the subscriber intended to supply superior bottled Porter, Ale and Mineral Waters. It also said that he was opposite his old stand and next door to O'Neal's Hotel on King Street2.
&nbsp &nbsp There was a "Richard P. Cook" in Alexandria VA in 1853, as a notice in the Alexandria Gazette lists his name among others who had letters waiting for them in the post office3. It's possible that this is the same "R.P. Cook" who's name is on the bottle below.


Bottles: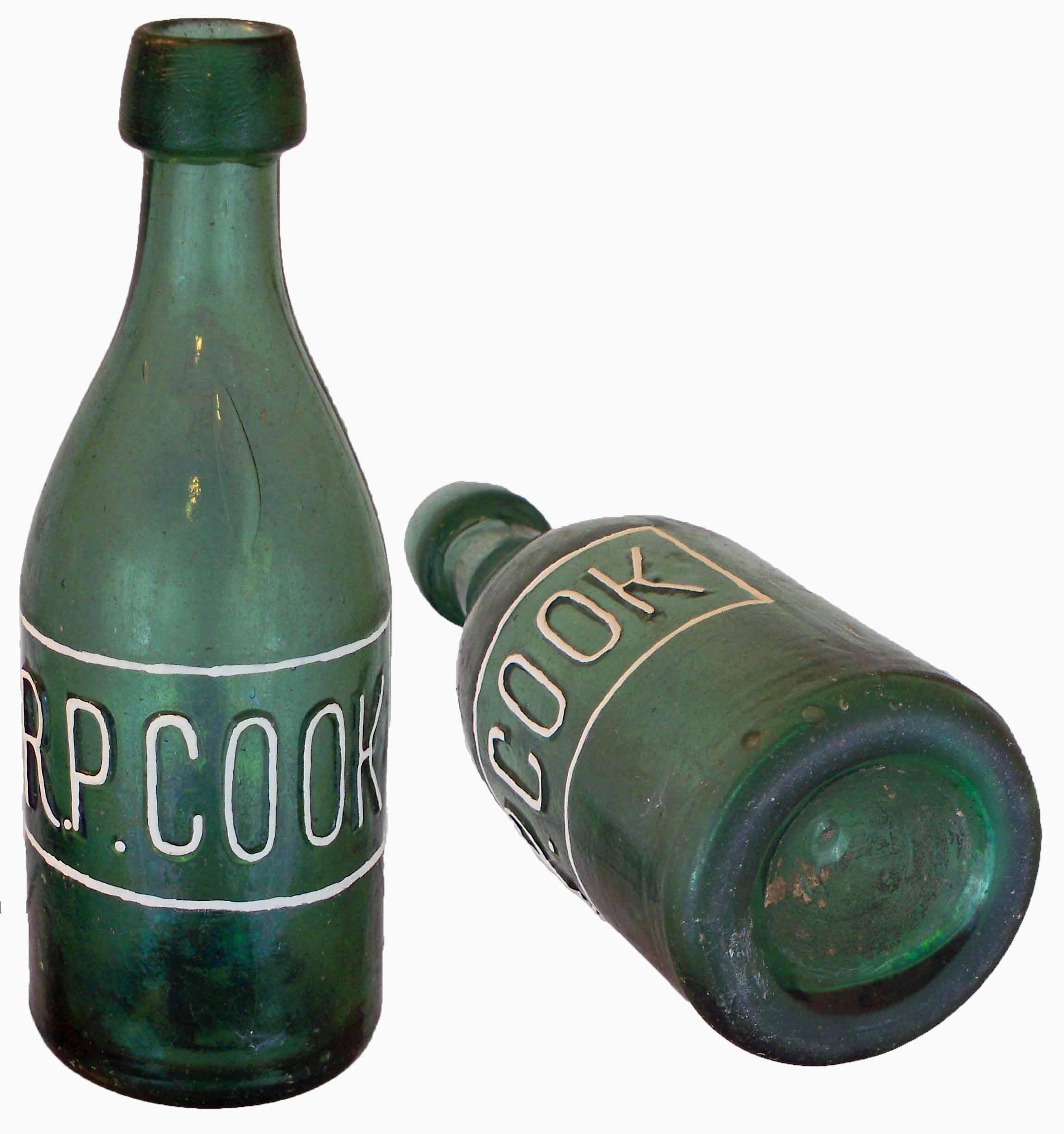 book # 186
This is a 7" green blob top bottle. The embossed letters have been painted white. It is embossed with very large letters:
rectangular slugplate: R.P. COOK
base: (iron pontil scar)






1 Alexandria Gazette, January 25, 1855, page 2
2 Alexandria Gazette, April 16, 1855, page 2
3 Alexandria Gazette, June 1, 1853, page 3






Back to my beer/soda bottle home page.
---
This page last updated on February 14, 2016.