Bruce's Drug Store


Company Names, addresses, dates:
&nbsp Bruce's Drug Store, 101 E Davis Street, Culpeper VA

Notes:
Cornelius Smith Bruce (b.1880, d.1955) 1,2,3 ran a drugstore in downtown Culpeper.
As the postcard below shows, the drugstore at 101 E Davis Street was Bruce's drug store. It was known as Bruce's as early as the 1920s. The same building later became Gayheart's drugtstore5.
The bottle shown below from Bruce's drug store says "The Penslar Store" on the label. It seems that Penslar was a firm of manufacturing chemists based in Detroit Michigan4. I'm not sure if that marking simply means that Bruce's sold Penslar products, or if it meant that Bruces was somehow owned or affiliated with the Penslar company. I've seen other drugstores that used the phrase "The Penslar Store".


Bruce's Drugstore Bottles: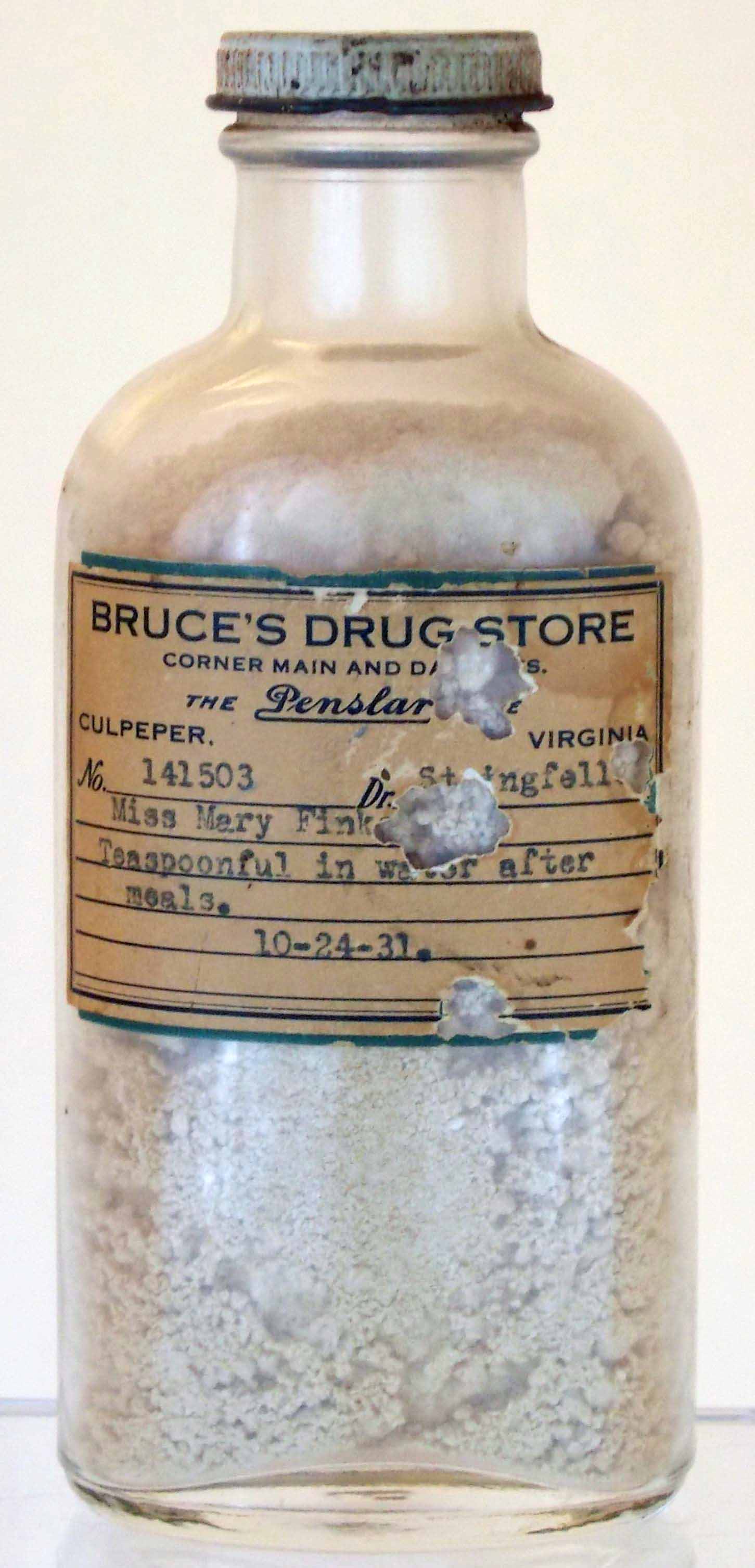 This is a clear 6.2" machine-made screw-top bottle with a label from 1931:
label: BRUCE'S DRUG STORE / CORNER MAIN AND DAVIS STS. / The Penslar Store / CULPEPPER VIRGINIA / No 141503 Dr Stringfall / ... / 10-24-31
CULPEPER, VIRGINIA

Other Items:

This is a postcard depicting Bruce's Drug store. This building later became Gayheart's drugtstore.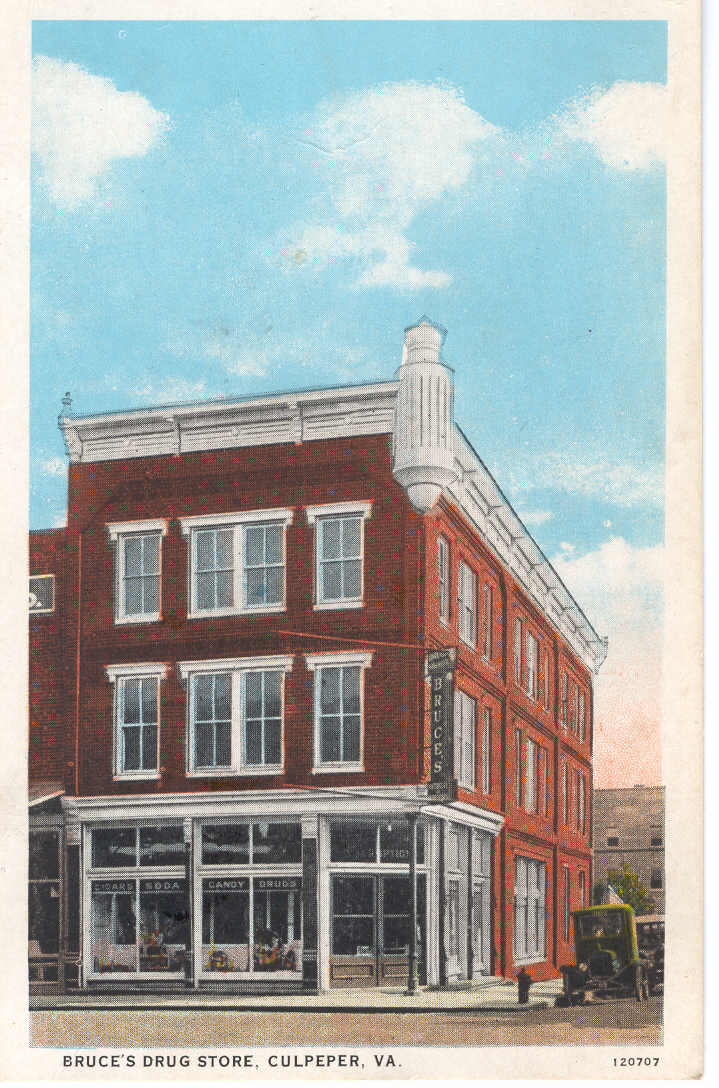 This photo was taken Apr 2017 of the building that housed Bruce's Drug Store.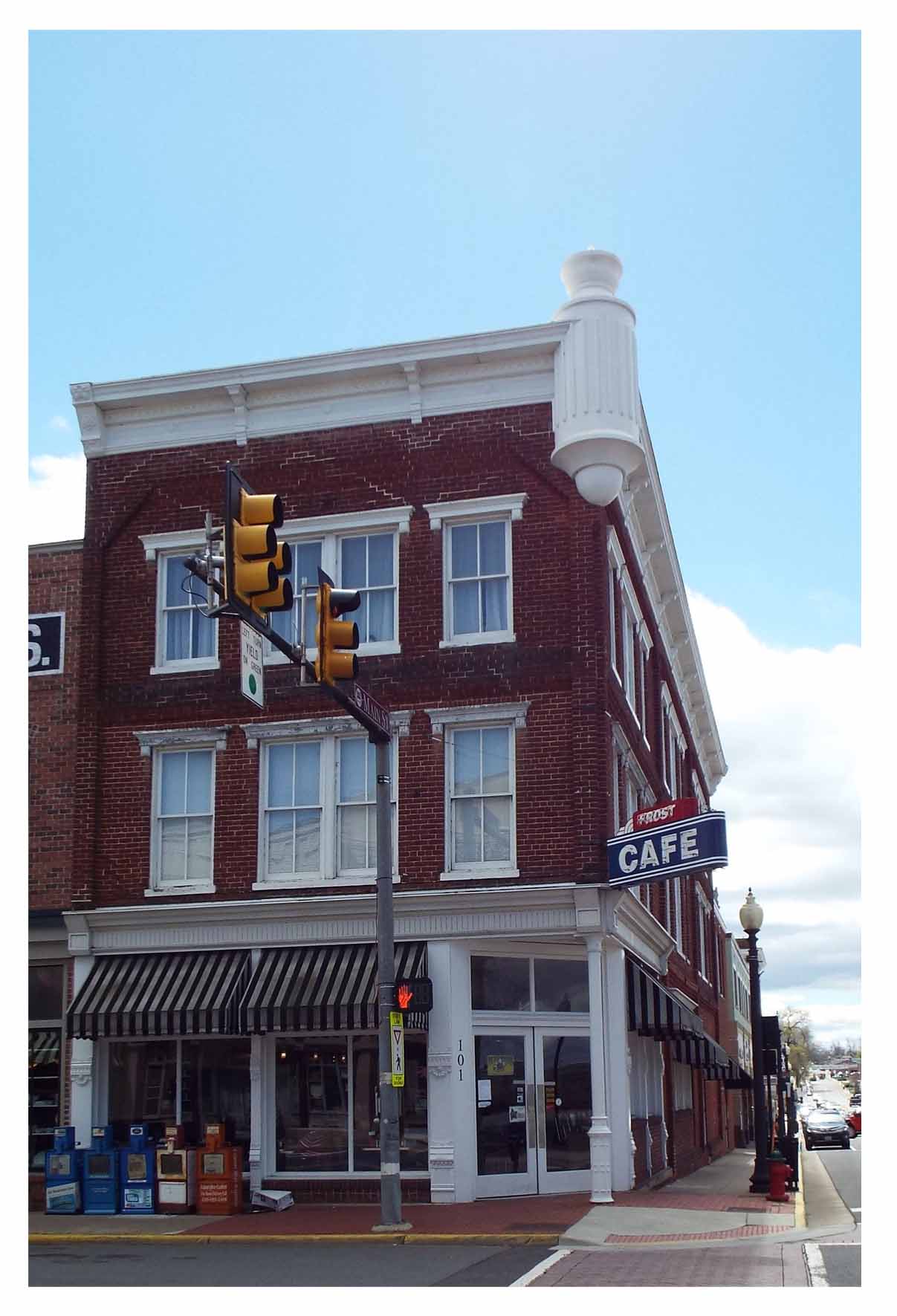 1 WWII Draft card for Cornelias Smith Bruce shows his date of birth
2 Death certificate for Cornelias Smith Bruce, June 2, 1955
3 U.S. Census 1920 & 1930 lists Cornelias Bruce as a druggist/manager-of-drugstore
4 Daily Telegram (Adrian Michigan), July 18, 1913 Page 2
5 Book: "Along Virginia's Route 15" by Josie Ballato, page 87 postcard depicting Bruce's in the 1920s






Back to my drugtstore bottle home page.
---
This page last updated on November 24, 2017.